In today's Jab Comix update, we bring you yet another porn comic. And today it features a very hot blonde that's about to engage in some "Solo" private activities. She decides to browse the net for some images, but finds herself browsing porn sites after a while. So enjoy this sexy blonde fuck herself with a huge dildo. Enjoy everyone and see an amazing blonde cutie as she gets to have some sweet fun with herself as she gets to listen to her female buddy's sexual adventures over the internet today. So let's get started.
Well her buddy did start telling her about her story, but it seems that this babe was quite intrigued. So she grabbed a nearby dildo and started to please herself with it as the story went on. The thing is that this cute blonde babe always gets turned on easily by kinky stories, and she just adores to masturbate while she listens. So sit back and see her pleasing that tight and eager pussy with the nice and big dildo that she prepared as her friend goes on. We hope you'll like it and we'll be seeing you soon with more as always!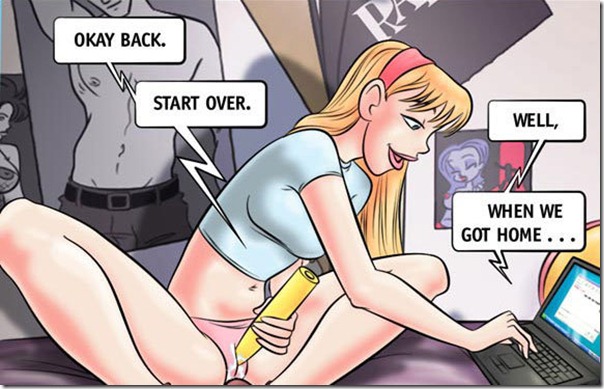 Check out this horny babe dildo-fucking her tight pussy!