As always Jab Comix  brings you the best comic book porn action for your viewing pleasure. Today we have a comic strip featuring a red haired MILF that's playing a game. It's about figuring out who's giving her oral under the table, and she has to guess without looking who it is. Great idea for a game if you ask us. Enjoy everyone and sit back to enjoy seeing this horny mature babe getting her sweet pussy eaten out by this eager stud under the table today. Let's get started and see the action shall we?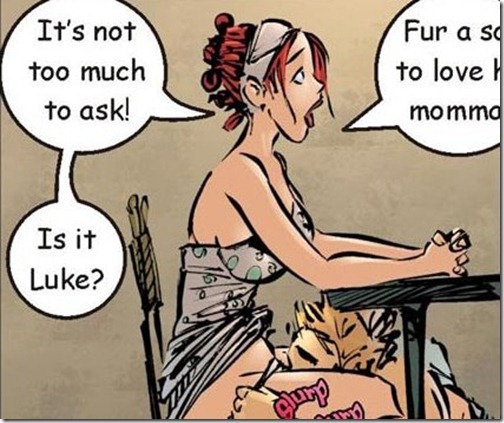 This guy knows exactly what this red haired babe loves, and so as he makes his way under the table, he lifts up her skirt. Oh, she knows exactly who it is and what she is going to experience and she was very much looking forward to it. So watch her enjoying herself as she moans in pleasure while the guy works her eager and wet pussy with his expert tongue for the afternoon. And he does a good enough job to give this babe a nice orgasm too by the end of it all. Have fun with it and see you guys soon!
Check out this horny babe getting her pussy licked!